---
Cape Fox Village, Alaska
---
Photographs Taken by Louis Agassiz Fuertes
---
Harriman Alaska Expedition
---
Louis Agassiz Fuertes, the ornithological artist from Cornell, took several photographs while at Cape Fox Village. These are a useful addition to the photographs taken by expedition photographer Edward S. Curtis, which can be found in the Special Collections Division of the University of Washington Library (and some of which have been printed in various publications), as they show some details that the Curtis photographs do not. I found among the Fuertes photographs the following:
envelope 12: 1 photo showing 3 poles in the village
envelope 14: 1 photo showing poles and the expeditions piles of loot on the beach
envelope 15: 2 photos of the village, one showing in situ the pole that was brought to Cornell
envelope 17: 1 photo of an expedition member (possible Burroughs?) in front of the village
envelope 19: 1 photo of the village with expedition members on the beach
[also a nice photo of a Native child on a porch, probably in Sitka]
envelope 20: 1 photo of a large grave figure, underexposed.
These photos can be consulted at the library, or further information can be obtained at the following address:
Division of Rare and Manuscript Collections
Carl A. Kroch Library
Cornell University
Ithaca, NY 14853-5302
Here are larger versions of the two Fuertes photos I used as illustrations in the paper, along with an enlarged detail showing the pole that was brought to Cornell.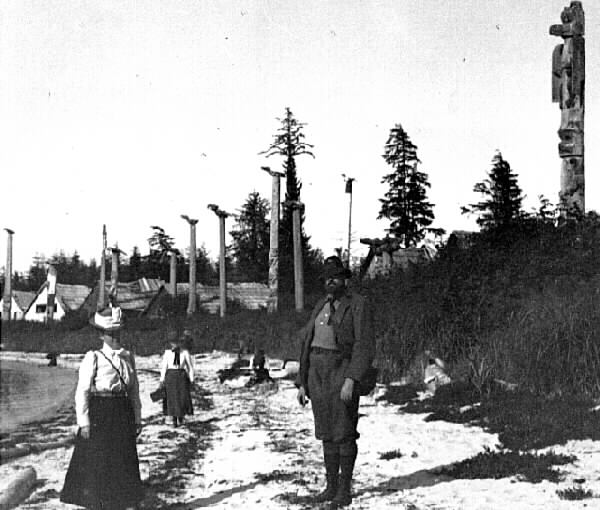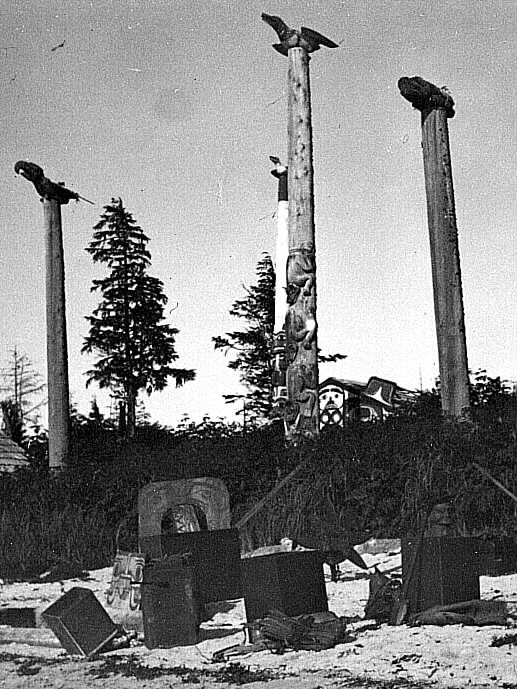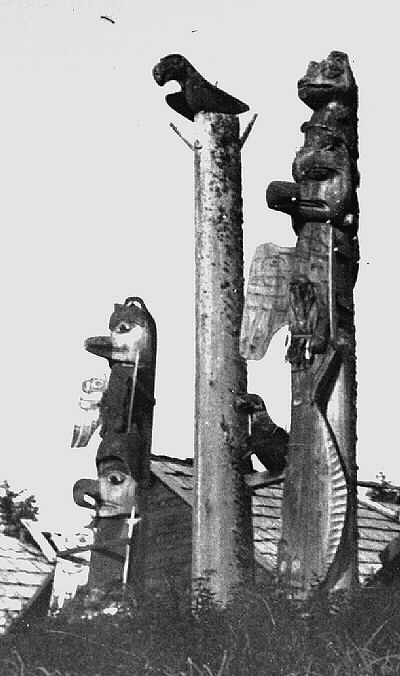 © 1998, 2007 Frederic W. Gleach. Photographs are not to be reproduced without the permission of Cornell University Library. Source: www.gleach.com